Interviews can be intimidating, whether you are looking for your first job or applying to a job post. Employers in today's Anglo-Saxon organizations are looking for more than job applicants who can give the perfect answer. They are also looking for how candidates respond to the questions when deciding whether or not to hire a job applicant.
Many companies in the United States conduct a multi-step interview process, and you can expect to discuss questions about your past work experience, technical skills, and education with at least 2-3 different representatives from the company (and sometimes more, depending on the job). These questions are posed to find out what type of work you have performed, as well as what skills and knowledge you have gained so far.
These questions do not call for a specific answer. Recruiters are more interested in how you answer the question.
Think back to middle school…
It is just like solving math problems back in school. While your teacher wanted to you to answer the problem correctly, it was equally important that you showed how you solved the problem in order to receive full credit.
Much of today's perspective regarding employment recruitment has been influenced by the business environment that emerged during the 1980's in Silicon Valley, California. Entrepreneurs such as Nolan Bushnell, founder of Atari, advocated the idea of removing burdensome processes within a company and turning the corporate hierarchy into a meritocracy.
Anglo-Saxon recruiters are looking for candidates with strong or creative problem solving skills. They are also looking for candidates who are able to learn new things quickly. They look for candidates whose response displays creativity in finding solutions. Building environments of team members with these skills is a valuable silicon valley working model. Hear it from Nolan Bushnell.
It started here: Bushnell interview.
Bushnell believed that a business succeeds when it employs, develops, and rewards employees who perform their jobs well and help the company achieve its goals.
Watch Atari's founder Nolan Bushnell explain this shift.
Startup Grind interview with Nolan Bushnell – Published on Jun 29, 2013.
This shift in the 1980's has changed the way Anglo-Saxon recruiters recruit and who they are looking for. They are often times not looking for what seems to be the perfect candidate. Here is a good testimonial to reflect this reality.
Anthony's testimonial: My experience interviewing at Apple Computer.
"I had six hours of interviews with Apple in February of 2016. After three rounds of interviews, I saw a number of differences in how one of America's most well known companies conducts job interviews compared to those I've had with French companies.
Surprisingly, none of their interview questions had anything related to my technical skills and knowledge regarding Apple products or software. I learned instead that Apple focuses on hiring people whose personalities and behaviors reflect the culture of 1980's Silicon Valley. They believe that the technical knowledge and skills can be easily acquired by candidates who are creative problem solvers and enjoy playing with technology. However, a friendly, outgoing personality cannot be taught.
As a result, Apple often hires people with experience working in bars, restaurants, and hotels. These are the kind of people who are usually good at working fast-paced environments, are friendly and helpful towards customers, and demonstrate strong problem-solving skills. When you shop in an Apple store, which is usually very busy, you quickly realize why these qualities are so important."
Anthony – 33 year old American living in Lyon
Our next article will talk specifically about key in demand skills that recruiters are looking for and ways to craft stories to show you have those in demand skills.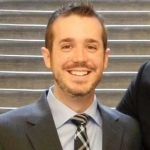 Co-author: Liam Moore
Article contributor and co-author, Liam is an american HR specialist and language trainer in Lyon. He provides one-on-one training to help you prepare for your interviews in English.